ICC Sydney launched its 2020 Menu Collection at PCOA 2019 this past December. Carefully curated by Executive Chef Tony Panetta, Director of Culinary Services, Lynell Peck and Beverage Operations & Cellar Manager, William Wilson, both beverage and food collections first featured on ICC Sydney's stand as well as throughout the event's catering to more than 400 attendees.
I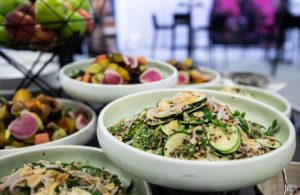 CC Sydney's culinary philosophy is based on three key pillars – authenticity, balance and expertise. Building on this foundation, the 2020 Menu Collection brings together the latest culinary trends and features an extensive range of options that cater to all personal preferences, alongside beloved iconic ICC Sydney dishes.
This years' menu features more plant-based dishes, native ingredients and superfoods catering to the exclusivity and flexibility required in today's events – from Pop Up Experiences and Grazing Tables to Build Your Own menus and Indian Jain options.
ICC Sydney CEO, Geoff Donaghy said the menu remains at the forefront of culinary trends while maintaining the venue's signature approach to premium service.
"In classic ICC Sydney style, our Menu Collection includes options that cater to all event types, from on-stand exhibition catering to fine dining banquets in our Grand Ballroom and everything in between."
By using the best, local ingredients combined with the culinary team's knowledge of food, respect for produce and provenance, ICC Sydney is enhancing client and delegate experiences based on choice, balance and flavour.
Using as much locally sourced produce as possible and supporting farmers across its home state is still a key focus. ICC Sydney's 2020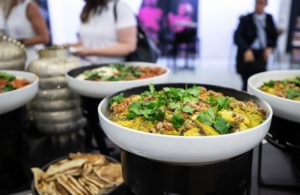 Menu Collection is paired with a new wine list, made up of 100% New South Wales-based suppliers with an added emphasis on organic and bio-dynamic wines.
In 2018/19, the venue invested more than A$12.2 million in direct local food and beverage spend into NSW, and supported more than 129 local producers through its supply chain.
Barry Neame, the president of the Professional Conference Organisers (PCOA), said the association's 2019 conference theme, Anything is Possible, was deliberately challenging on a whole range of levels.
"We sought to step outside the square and demonstrate that anything is possible when delivering events.
"The International Convention Centre Sydney team embraced the theme with everything they did to meet the expectations of our business events community, something of which they should be justifiability proud.
"The PCOA19 food and beverage offerings were outstanding. We commend the chefs and the also the support from the food and beverage staff for being so engaging with our conference attendees.
"This was an outstanding team effort which demonstrated to a key buying audience the food and beverage capabilities of the ICC Sydney people."
View the ICC Sydney Culinary Video video here