Qld Government Support for Business
Grants of $1,000 to $30,000 are available for Queensland businesses affected by the state's lockdowns between 31 July and 11 August 2021.
To be eligible a you must have had a drop in business of 30 per cent or more over seven days, including one full day during lockdown, and have an annual turnover of at least $75,000 (and be registered for GST).
The Queensland and Australian Governments' COVID-19 Business Support Grants are open until 16 November for businesses and 30 November for sole traders.
Sole traders and businesses without staff can apply for a $1,000 grant, and businesses and not-for-profits that employ staff can apply for:
a $10,000 grant if they have an annual payroll of less than $1.3 million
a $15,000 grant for those with an annual payroll between $1.3 and $10 million
a $30,000 grant for tourism or hospitality businesses with an annual payroll of more than $10 million.
More information about applying for these grants is available at www.business.qld.gov.au/supportgrant
Additional tourism and hospitality support
There is already $47.55 million available to the sector for COVID-19 lockdown support.
In addition, the State Government has announced a $40 million tourism and hospitality sector hardship program opening in October for businesses who have had drop in turnover of at least 70 per cent since July due to the lockdowns and/or the Queensland-News South Wales border closure.
To find out more, go to the Department of Tourism, Innovation and Sport's Tourism and Hospitality Sector Hardship Program page.
More information
For more information or support see Business Queensland, call the Small Business Hotline on 1300 654 687, or subscribe to the Small Business Connect newsletter.
Business Events Bid Fund Program
Following extensive lobbying by the Business Events Council of Australia (BECA), of which PCOA is a member, the economic value of business events to the Australian economy has received further recognition in the Federal Government's tourism policy.
The Hon Steven Ciobo, Minister for Trade, Tourism and Investment, has announced Tourism Australia's Business Events Bid Fund Program will receive $12m over the next three years.
We understand that the fund is open to all types of business events provided they met the criteria and could demonstrate ROI in international visitation and spending.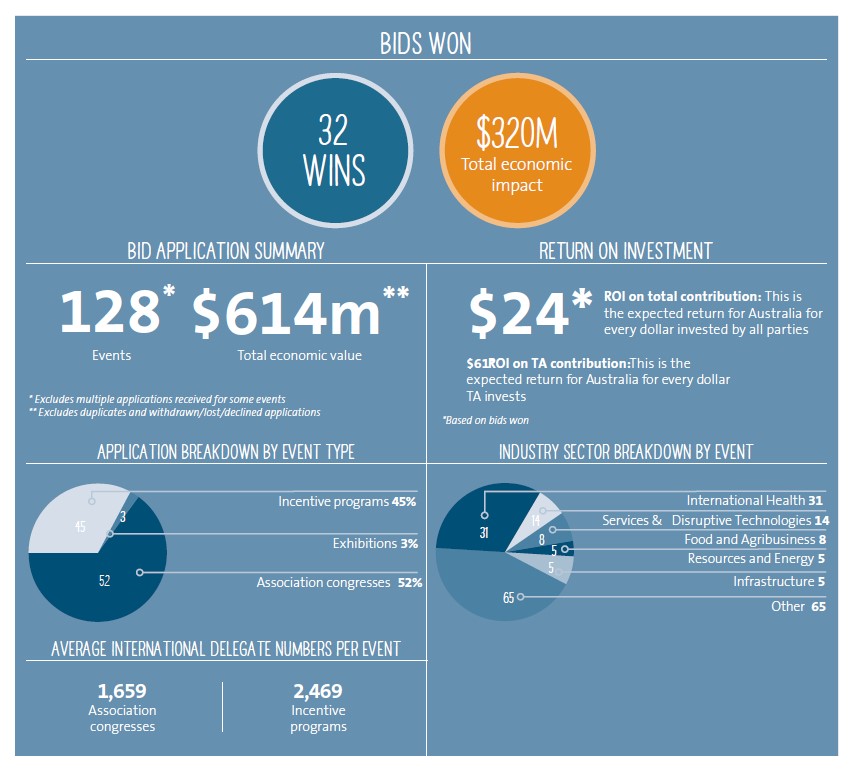 Efic

Finance for Australian Exporters