The Conference Collective Podcast Series
Welcome to the 'The Conference Collective' Podcast, celebrating the best in innovation and leadership from those who are creating a positive change in the business events industry. A podcast brought to you by the Professional Conference Organisers Association and hosted by Libbie Ray from Connected Event Group.
This podcast series provides listeners with behind the scenes access to some of the key innovators in our industry as they share their honest and raw insights. It highlights how collaboration, innovation and resilience are at the core of the events industry and the reasons we have managed to survive through the most challenging time our industry has faced. Get ready to learn more about the brave new world of the business events industry.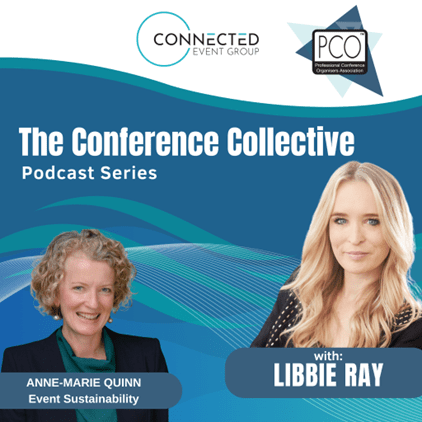 Episode 1
How To Make Your Event More Sustainable And Finding Your Purpose With Anne-Marie Quinn
In this episode of The Conference Collective Podcast we welcome Anne-Marie Quinn, Managing Director at All Occasions Group. Anne-Marie shares her experience with discovering a sense of purpose, both personally, and within her business. Anne-Marie further highlights how her environmental beliefs channel into the ways she runs her business and provides guidance and tips on how to run your events more sustainably. Anne-Marie also sheds light on how she fosters growth within her team and is hopeful for the future of the events industry.
About Anne-Marie Quinn:
Anne-Marie Quinn is the Founder and Managing Director of the All Occasions Group and has built the company since its inception in 1998. She has developed the organisation over the past 24 years to a staff of 12 multi-skilled team members and has attracted a very impressive range of major national and international clients. All Occasions Group is a true South Australian success story, offering award winning conference, event and travel management services.
All Occasions Group Website: https://alloccasionsgroup.com/
Anne-Marie's LinkedIn: https://www.linkedin.com/in/anne-marie-quinn-69138517/