The Conference Collective Podcast Series
Welcome to the 'The Conference Collective' Podcast, celebrating the best in innovation and leadership from those who are creating a positive change in the business events industry. A podcast brought to you by the Professional Conference Organisers Association and hosted by Libbie Ray from Connected Event Group.
This podcast series provides listeners with behind the scenes access to some of the key innovators in our industry as they share their honest and raw insights. It highlights how collaboration, innovation and resilience are at the core of the events industry and the reasons we have managed to survive through the most challenging time our industry has faced. Get ready to learn more about the brave new world of the business events industry.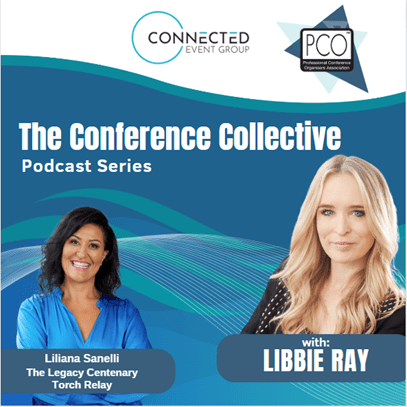 Episode 5
From The King to KISS - Making sh*t happen with Liliana Sanelli
In this episode of The Conference Collective Podcast we welcome Liliana Sanelli who takes us through the process of creating and implementing The Legacy Centenary Torch Relay 2023 event for Legacy Australia. Liliana sheds light on the challenges the team faced throughout both the planning and execution stages of the event, along with how she managed to keep the team motivated across this large international project. Liliana further shares with us a few of her core memories while working on the event, from meeting The King to partnering with the band KISS.
About Liliana Sanelli:
Producing life-changing events, Liliana Sanelli is the CEO of The Perfect Events Group. With a Masters of Business in Events and over 25 years of experience in the industry producing over 1000 world renowned events across Australia and overseas including:
The Leukaemia Foundation World's Greatest Shave for a Cure
2000 Sydney Olympics
The Melbourne International Film Festival
Arnold Schwarzenegger Family Walk
Fred Hollows Foundation launch in Los Angeles
Al Gore exclusive function in Sydney
Olivia Newton John Walk and Gala
Prime Minister of Australia Literary Awards
City of Melbourne Lord Mayor's Student Welcome
VMC: Premier's Gala Dinner
MAV Technology Conference
Equal Access for Autism Inaugural Gala
The Legacy Centenary Torch Relay 2023
Liliana is a key industry thought leader in event production and strategy, fundraising, building key partnerships and sponsorships. She has spoken to thousands of students across Australia on the event industry over the past decade.
Liliana's LinkedIn: https://www.linkedin.com/in/lilianasanelli/
Perfect Events Website: https://www.theperfecteventsgroup.com.au/