Domino's ANZ Rally 2022 Case Study – By Gold Coast Convention and Exhibition Centre
THE X FACTOR
Driven by a passion to connect people with faster, fresher quality food, Domino's Pizza Enterprises is the largest pizza chain in Australia, and the largest franchisee for the US Domino's Pizza brand worldwide.
Matthew Kershaw, Domino's Head of People Development ANZ, says the rally is "the most significant date" on the organisation's calendar.
X MARKS THE POST ON THE GOLD COAST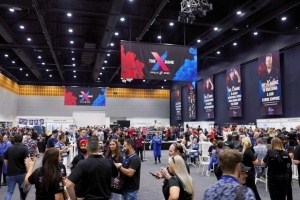 This year's Domino's ANZ Rally was held at the Gold Coast Convention & Exhibition Centre (GCCEC), the largest regional convention centre in Australia.
"It's always been a dream of ours to bring the ANZ Rally to the Gold Coast," Matthew says. "The Convention Centre seemed to be the perfect spot to host the event."
With more than 1,500 delegates coming from around Australia and New Zealand, GCCEC stood out as the ideal venue with its close proximity to two international airports; an abundance of accommodation suited to all types of delegates, from CEOs to franchisees and families; and handy access to world-class beaches, restaurants and attractions.
"For our people, it's a destination they've been looking forward to visiting, where they can find some of the best hotels, restaurants and beaches in the world, all within a stone's throw of the venue," Matthew says. "When they finish up at the Rally for the day, delegates can walk across the road and everything's just at their doorstep. I think that's really the greatest appeal of bringing the ANZ Rally to the Gold Coast.
"There's a lot of energy and excitement about this year's event."
SPECIAL DELIVERY
While the attendees were thrilled to come to the Gold Coast, most of them were blissfully unaware of the effort it had taken behind the scenes to get them there.
The GCCEC team went above and beyond to ensure that this event was able to go ahead as planned – two years after it was originally scheduled.
"This one was unusual," says GCCEC Associate Director of Sales Sally Hein. "It was originally supposed to be held in March 2020, but because of COVID and the restrictions that came with that, it kept moving – to November 2020, then to March 2021, and finally to April 2022.
AN IMMERSIVE EXPERIENCE
The flexibility of GCCEC was part of the appeal for Domino's, as the one venue was capable of hosting the rally's conferencing, exhibition and gala dinner elements with ease.
The event took over three of GCCEC's halls, as well as the venue's central rooms and foyers, which were used to accommodate breakout sessions.
In order to help Domino's support their partners, suppliers and exhibitors by maximising attendees' time on the expo floor, a bespoke floor plan was devised to ensure delegates had to flow through the expo floor on their way to the plenary space, providing a guaranteed audience for vendors.