8 Ways to Avoid Digital Event Fatigue with Redback Connect
With one in three of us now attending more than 10 virtual events a month according to the 2020 Redback Report, it's not surprising that some of us are experiencing a bit of event fatigue.
Here are a few tips to help your audience to avoid virtual event fatigue and stay engaged for longer.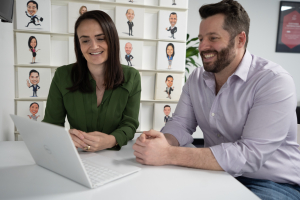 1. Keep them short, sharp and snappy
Choose the medium that best suits your message and keep your event as concise as possible.
If you're going with video, we often advise our clients to make their online meetings and events shorter than a similar traditional physical event.
Keep track of the time and move on to each agenda item as scheduled. Consider using a moderator.
2. Schedule events when your audience wants to attend

While your individual circumstances will determine when and what time you hold your virtual meeting or event, there are particular times and days that more people prefer.
Data from the 2020 Redback Report, shows that Tuesday and Wednesday are the preferred days of the working week. Generally, they're almost as twice as popular as the next most popular day, which is Friday.
3. Choose the format that best suits your meeting type and objectives
Collaborative video conferences are ideal for workshops and other team exercises. For other events, you may wish to film live, pre-record segments, hold an in-depth interview or casual fireside chat with an executive, or feature single or multiple presenters in a panel discussion in a studio.
4. Great content and a great presenter are essential
Take the time to figure out what your audience wants to know about before formulating your virtual event. Here's a few things they need to do.
– Make eye contact with your virtual audience
– Don't lecture your audience. Instead, create a conversation.
– Smile and relax. A happy, comfortable presenter will help your attendees be more relaxed which means they will be more engaged
5. Get inside your audience's head
Neuroscience research has shown us that our brains can only take in a limited amount of information in a given period, so don't go over the top when it comes to the fine details. Break your content down into easily discernible chunks of information.
It's also important to repeat the key points of your message, because the brain needs meaningful repetition to lay down long-term memory.
6. Inject some fun
Virtual events can provide their own unique opportunities to make an online gathering more enjoyable and memorable.
From walking meetings, where everyone sets a target for the number of steps to complete during a team meeting as part of a health and wellness project, to paint and sip social sessions, the different types of meetings and events (or virtual breakout sessions as part of a larger event) you can hold are only limited by your imagination.
7. Get the audio right
Having good audio quality is a non-negotiable.
Almost two in three (63%) respondents to the 2020 Redback Report said the quality of audio was a chief concern when it came to digital events, with being able to see presenters a distant second (33%).
Most people will put up with halting video, or no video at all if their connection is unreliable, but tinny audio is a big turn-off.
8. Technical fallback plan
If you're holding a small team meeting, a dropout might not be too much of a concern if you can quickly get everyone re-connected.
But if you're holding an important pitch to investors, it could mean the difference between securing and missing out on a new round of funding.
That's why it's important to make sure your video conferencing service is reliable and comes with the best technology and technical support that meets your needs.
For more information visit Redback Connect