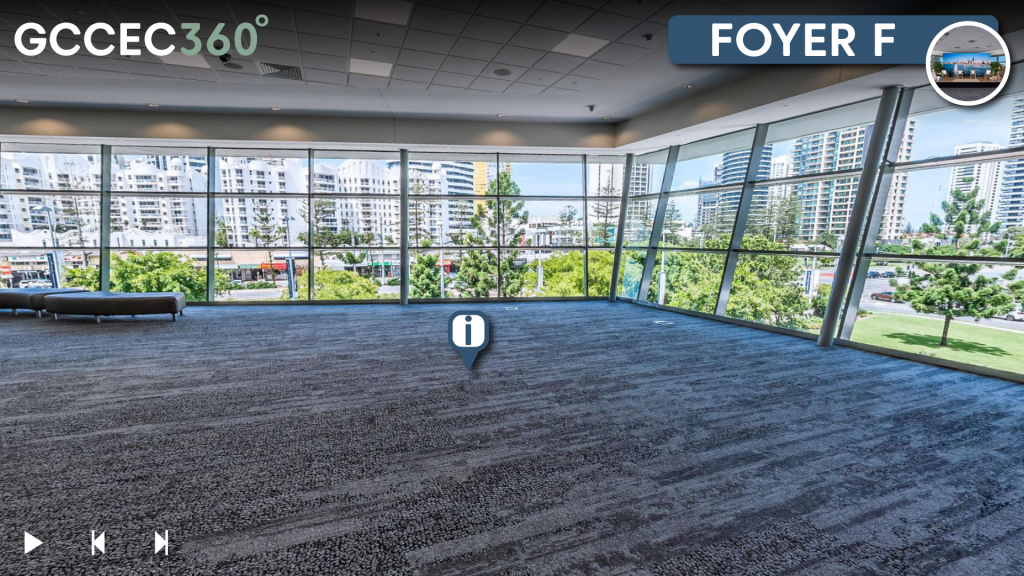 Spectacular new 360-degree virtual tour opens up the Gold Coast Convention & Exhibition Centre like never before.
An interactive and immersive new 360-degree video will enable prospective clients to embark on a virtual site inspection and see the Gold Coast Convention and Exhibition Centre (GCCEC) from a whole new angle.
The innovative video, GCCEC360, invites viewers to walk through Australia's largest regional convention centre, taking in each of its spaces from all directions and stopping to access more details at their leisure.
"It's as good as a physical site tour," said Adrienne Readings, General Manager Gold Coast Convention and Exhibition Centre.
"We mapped out how we do tours of the Centre for prospective clients, from the front door to the arena, central rooms, meeting rooms, halls and foyers, and we recreated that experience virtually.
"The video includes all of the things that we discuss with visitors on an in-venue site tour – everything from which spaces are best suited to which types of events, to where the registration desk and organiser's offices are located."
Throughout GCCEC360, which can be viewed on virtually any computer or mobile device, pop-up hotspots provide further details.
"It's a truly interactive experience that allows the viewer to discover specifics such as how many people can fit into a space for a gala dinner or how many people can be seated in a space for a concert. All of that information is contained within the video, along with floor plans, still images and other relevant details."
GCCEC has led the event industry's pandemic recovery over the past year. Since getting the go-ahead to operate under its COVID Safe site-specific plan last June, the venue has successfully hosted several business and public events.
While COVID has presented opportunities, giving the Centre a greater chance than ever to attract business events that would otherwise have gone overseas, the pandemic has also impacted the ability of domestic decision makers to tour the site and inspect its world-class facilities.
With the number of in-venue site tours decreasing at the same time that traffic to the venue's interactive maps and 360-degree image gallery was increasing, the GCCEC team recognised the need to provide prospective clients with a virtual site tour.
"We needed to be able to show off the spaces within the Centre to clients in any location," Ms Readings said. "With potential border closures and clients being unable to travel, we had to ramp up our capacity to bring the Centre, the destination and our capabilities and personality to decision makers, wherever they may be."
GCCEC successfully applied for the Tourism Australia Business Events Boost Program and used the funding to produce GCCEC360.
"Business Events Australia is pleased to partner with GCCEC to support this valuable project via the Business Events Boost Program," said Penny Lion, Executive General Manager, Events at Tourism Australia. "It is innovative asset creation like this which will encourage Australian businesses and organisations to host in-person events again and showcases Australia's smarts to the wider international business events market."
The 360-degree video showcases the Centre as a world-class business event venue in a highly desirable location – increasing awareness of the Centre, even whilst COVID limits opportunities for physical site visits.
"Initiatives like GCCEC360 will help us continue to be the magnet for tourism that we have been for the past 17 years," Ms Readings said. "GCECC has brought hundreds of thousands of visitors to the Gold Coast, injecting $300-$500 million annually into the local economy, and it's important that we continue to play that role for the community in a post-COVID landscape."
Located in the heart of Broadbeach, just 500 metres to the beach and walking distance to thousands of accommodation options, GCCEC is Australia's largest regional convention centre.
With a massive main arena, four exhibition halls and a range of meeting rooms catering for up to 6,000 people, GCCEC is the destination-of-choice for conferences, exhibitions, concerts, trade shows and events.
For more information about GCCEC 360 and imagery, contact Kerri Brown, Brand and Communications Manager, Gold Coast Convention and Exhibition Centre,
0448 075 581 or kbrown@gccec.com.au
PCO Association business partner – Gold Coast Convention and Exhibition Centre (GCCEC)