GRAND OPENING of Dune Restaurant at Kingfisher Bay Resort
We're excited to share the GRAND OPENING of Dune Restaurant at Kingfisher Bay Resort!
Dune Restaurant comes following the refurbishment of former dining venue, Seabelle, which stopped service at the beginning of the pandemic. Not only does this announcement add a breath of fresh air to Kingfisher Bay Resort, but it also marks the resort's full recovery from staff shortages that have been present throughout the tourism industry in recent years.
We are proud to again offer our guests a full suite of dining options that will boost their experience staying with the premier accommodation provider on K'gari, Fraser Island.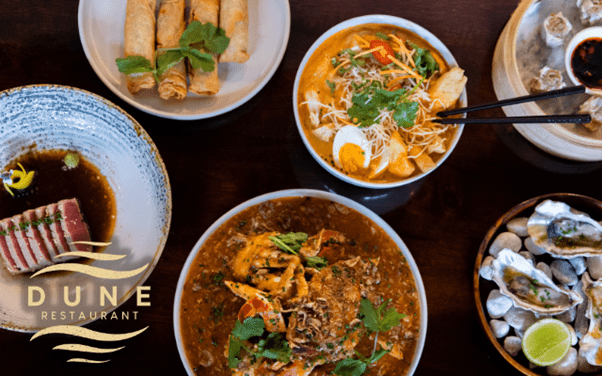 In addition to our current modern-Australian style eateries, guests of the resort can now take a journey through Dune Restaurant and discover a refreshing and aromatic dining destination with the bright spices and fresh flavours of Asian fusion.
Dune's creations will truly tantalise the senses, as guests indulge in sweet, salty and spicy selections, from decadent dumplings to fragrant curries and sizzling stir-fried meats to noodle dishes packed with taste.
Best enjoyed with good company, guests can pair sharable dishes of perfectly prepared fresh produce with a bold beverage list, including unique wines and fresh to order, island-themed cocktails.
Groups will be welcome to soak in the inviting, ambient atmosphere of Dune Restaurant, with an open-plan kitchen to witness the chefs fire up their woks and create a twilight delight at the heart of the award-winning Kingfisher Bay Resort.  This venue will be suited to a maximum of 30 guests, for an intimate experience
Enjoy the Dune journey, not just the destination!!