Gold Coast Convention and Exhibition Centre Coordinates Support to Gold Coast Community
The Gold Coast Convention and Exhibition Centre (GCCEC) is offering support to community organisations and educational institutions as the impact of COVID-19 leads to a spike in demand for services.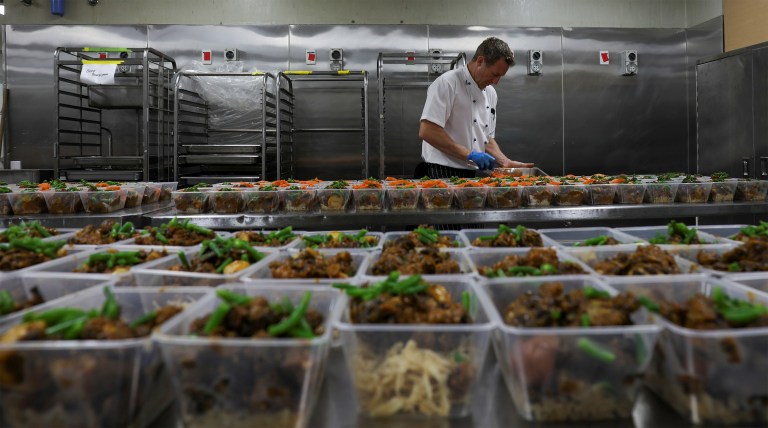 Forced to temporarily close its doors due to legislation that limits gatherings and imposes social distancing, GCCEC has formed a Community Team tasked with leading initiatives to provide much-needed support.
Executive Chef, Garry Kindred and the kitchen team immediately began creating nutritious dishes and desserts, preparing 500 servings of soup for OzHarvest, followed by hundreds of meals for local agencies including Love This City (charity arm of OurChurch), Global Care, St John's Crisis Centre and Hillsong CityCare. By the end of the week, the Centre will have prepared around 15,000 meal portions distributed to the area's most vulnerable.
IGA has committed to donating 5 tonnes of perishable food items through supply partners, that will be made into nutritious meals in the GCCEC kitchens.
Frank Spano, Queensland IGA retailer and Deputy Chair of the IGA National Retailer Council said, "at IGA, looking after our local communities has and always will be our top priority.
We understand the impact COVID-19 is having on so many people and our 1,400 independently owned stores across the country are supporting their communities in various ways.
We have just launched IGA Priority Shop a home delivery service for those who are elderly, vulnerable, self-isolating and working on the healthcare front line. We are delighted to be able to work with the GCCEC on this great initiative, supplying food that can be prepared for those who need it most, ensuring that no one goes without."
Love This City spokesperson, Ruth Arnold has been working closely with GCCEC to ensure that the meals are reaching those most in need, describing the effect the meals are having, saying "the kindness and thought has been a wonderful boost both practically and emotionally and mentally for the recipients."
She went on to thank each of the suppliers, and the staff involved at the GCCEC, for their generosity and heart to serve the community. Meals have been distributed to senior and disability patrons isolated due to COVID-19 restrictions through house deliveries, families impacted by the financial effects of COVID-19 including loss of jobs and income, grandparent-headed households raising their grandkids and in the 'at risk' category for isolation and doctors and nurses on the front line at fever clinics and emergency department through Robina Hospital.
Adrienne Readings, General Manager, GCCEC said, "If there's a silver lining in the current crisis, it's seeing the community rally together to support those most affected. We are doing everything we can to offer a lending hand – including donating juices, soft drinks and soups to OzHarvest, cooking thousands of meals and encouraging partners to join in our mission".
"Our technology team has been providing services to local schools by creating temporary studios and recording lessons for online delivery next term," she continued. "Many schools and teachers have little or no experience of recording lessons for online consumption and we are able to offer supportive and technical capacity to these schools."
About GCCEC
Opened in 2004, the Gold Coast Convention and Exhibition Centre is owned by Queensland Government and managed by The Star Entertainment Group. The Centre was recently awarded Gold at the 2019 Australian Tourism Awards, and is the world's first convention centre to achieve platinum certification through EarthCheck.
The GCCEC – PCO Association business partner