Funding available for your 2021 Business event
If you are planning to host a meeting or an event this year in Sydney with more than 50 people then we thought it's an opportune time to draw your attention to the BE Sydney Kickstart Campaign which offers funding to business events taking place across Greater Sydney, Newcastle and Wollongong before the end of the year.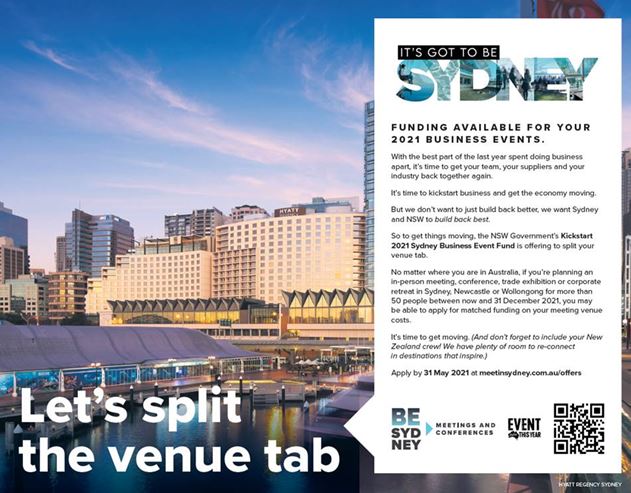 Applications close on 31st May so we recommend that you check if you are eligible to apply for the grant before it's too late.
Applicants may apply for funding based on the following scale:
> $50 per delegate for a one-day business event (Max: $45,000)
> $100 per delegate for a two-day (or more) business event (Max: $90,000)
Applications close May 31st 2021, to host your event by December 31st 2021.
As a venue within the catchment area, we'd be delighted to collaborate with you to deliver your next business event.
To find out more and to apply, click here:  https://www.meetinsydney.com.au/offers/kickstart-2021-business-events-fund/
Please feel free to contact Maggie or the team at Hyatt Regency Sydney to discuss how they can partner with you on a new program.
MAGGIE DIASINOS
Senior Global Director of Sales
Hyatt Sales Force
Pacific
M: +61 413 053 445 E: maggie.diasinos@hyatt.com