Darwin Welcomes Back International Business Events
The Darwin Convention Centre is set to welcome back international business events to its world-class venue this month with the IFCO2022 International Foster Care Conference scheduled for 23-25 September. Over 600 delegates are expected to attend with 84% of registered attendees travelling to Darwin from overseas and interstate.

Jo Derrick, Vice-President for IFCO said "We are delighted to be back in Australia for our International conference and even moreso to be in Darwin for our first face-to-face conference in 3 years. We have always appreciated the warm welcome we receive in Australia."
The return of international conferences to the Darwin Convention Centre marks an incredible milestone for the venue in its recovery journey as the business events industry continues to rebuild from the global pandemic.
"We are increasingly seeing more and more associations considering Darwin as a host destination for international business events. As Australia's northernmost capital city, the Darwin Convention Centre is well positioned in close proximity to South East Asia allowing easy access for business events to attract delegates from across Australia and South East Asia.
International delegates from the UK, Europe, Middle East and the USA can also easily access Darwin with regularly scheduled flights from other major Australian cities and directly via Singapore and Indonesia, making Darwin as a host destination incredibly appealing."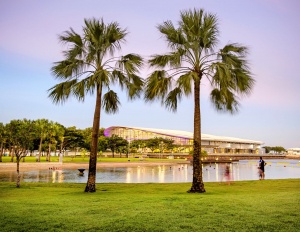 Another significant appeal for those considering the Darwin Convention Centre is its unique position within Australia's much-heralded Darwin Waterfront Precinct – a vibrant, stylish enclave that offers high-quality accommodation; upmarket shops and eateries, along with a sheltered sandy beach; wave lagoon pool; pleasant walkways and lush parkland within walking distance of the Centre.
The beautiful resort-like setting, blue sunny skies and the leisurely Darwin ambience of the Waterfront Precinct all help to take delegates away from the usual hustle and bustle of big cities. Instead, delegates find themselves more relaxed with space to think and concentrate on the conference agenda at hand.
Rebecca McCaig, Director Northern Territory Business Events shares what makes Darwin such a refreshingly unique destination for business events. "Darwin Convention Centre's stunning waterfront location enhances the appeal of the Northern Territory's tropical capital city as a destination for delivering world-class business events. Our iconic landscapes, nature-based experiences and opportunity to engage with our 65,000-year-old culture ensure meaningful and enriching experiences for delegates and planners alike."
Despite the challenges of the past 2 years, international interest in Darwin as a host destination and the convention centre's world-class venue has remained strong with the team ready to welcome back international business events this month and well into the future.
The Darwin Convention Centre has recently announced successful bids for World Aquaculture and World Community Development Conference in 2023, with 3 more International conferences having been secured in recent months.
Associations considering Darwin as a host destination are encouraged to apply for the NT Business Events support fund which is available for eligible business events hosting a conference, corporate meeting, convention, exhibition or incentive at the Darwin Convention Centre.
About the Darwin Convention Centre:
The Darwin Convention Centre is a world-class business events venue and the centrepiece of the Darwin Waterfront Precinct. Managed by international venue management specialist ASM Global, the Centre hosts hundreds of business events every year and offers delegates space to think, opportunities to learn and time to network.
With some 23,000 square metres of space, the Centre hosts from national and international conferences, large exhibitions and gala dinners to award ceremonies, meetings and seminars, concerts and sporting events. It offers a range of flexible event spaces including an Auditorium with tiered seating for 1,200 delegates, four column-free halls, three top-level Waterfront Rooms and four additional meeting rooms.
Since opening in 2008, the Centre and its team of professionals have built a reputation for delivering outstanding events, first-class food and excellent customer service.
About ASM Global:
ASM Global is the world's leading producer of entertainment experiences. It is the global leader in venue and event strategy and management—delivering locally tailored solutions and cutting-edge technologies to achieve maximum results for venue owners. The company's elite venue network spans five continents, with a portfolio of more than 350 of the world's most prestigious arenas,cstadiums, convention, and exhibition centers, and performing arts venues.
Darwin Convention Centre is a PCO Association business partner