Take your event to the next level with these adaptable hybrid event formats
Did you know hybrid event formats can adapt for a range of businesses and event styles?
Understandably, a lot of businesses have been cautious about planning events in the current health climate. But equally, many others are embracing the power of technology to successfully deliver events using a hybrid model of in-venue and digital platforms.
But maybe you're wondering if hybrid events are suitable for you? Are you not sure how to blend live, remote, and pre-recorded elements to create a holistic event experience? Or wondering how you can connect people across multiple locations? Not to mention worrying about what to do and how to keep your event schedule running in the face of restrictions unexpectedly changing.
The good news is that there are answers. A combination of the right tools and know-how means you can harness the potential for interactivity and connection. We've put together a few examples of the successful hybrid event formats we've executed so you can get a sense of what's possible.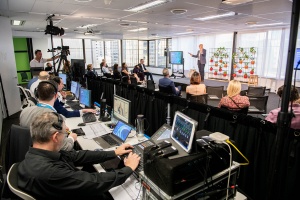 Facilities Management Australia Awards
The FMA chose Cliftons to run their 2020 FM Industry awards as a hybrid event bringing together more than 200 industry professionals across simultaneous events in Perth, Sydney, Brisbane, and Melbourne. Participants enjoyed breathtaking views and superb catering on-site, with seamless digital connectivity between the locations. FMA CEO, Nicholas Burt, described it as an "unforgettable and highly successful celebration."
Seamless multi-city experience for IWD
On International Women's Day in March 2021, Cliftons coordinated a multi-city event with speakers and an in-venue audience across Sydney and Melbourne and remote attendees on behalf of Norman Disney & Young. Rooms with socially distanced theatre-style seating was used. A microphone operator was on hand providing a contact free microphone service. Multiple camera angles were used to create an immersive experience for speakers and the audience in both cities could see each other and be part of a single flowing panel discussion.
Creating a big conference impact both in-person and online
In September 2020, we partnered with speaker bureau, Ovations to host our first-ever hybrid speaker showcase, Elevate. The hybrid conference featured as much complexity as we could think of, designed to demonstrate the power and effectiveness of this style of event. We had multiple sites with speakers and in-person attendees, live presentations, pre-recorded presentations, recorded live sessions, and more. In addition, one of our planned sites in Melbourne was returned to lockdown restrictions and required a pivot to a purely remote format for participants there.
Rapidly changing event plans in response to COVID case
Hybrid event platforms also give you the capacity to host with confidence. Good Talent Media experienced this benefit in May 2021 when on the morning of its planned "Press the Press" event with over 60 participants registered, the announcement of a mystery COVID case was made. Snap restrictions were put into place from 5 pm that day. Cliftons quickly activated plans to stream the event live and create a virtual option for delegates nervous about the mystery case and the possible risk of infection.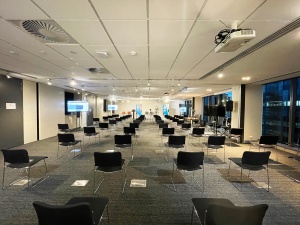 Flexible events with compelling benefits
Besides the flexibility to continue running events in the face of ongoing travel restrictions and capped numbers for social distancing, hybrid events offer other benefits. Take advantage of:
Increased ability to gather data: Various polling platforms and post-event surveys harness valuable information to inform your strategy for future events.
Reduced environmental footprint: Hybrid events offer a sustainable alternative for events requiring air travel, as well as the impact of food wastage.
Repurposing potential: Make use of presentations throughout your marketing, internal communications, and onboarding programs with the capacity to edit recorded content and repurpose.
Increased reach: Expand your audience to other locations and time zones through live streaming and on-demand playback of recordings.
An experienced provider you can rely on.
Why not offer your next event as a hybrid?
With Cliftons contemporary corporate event spaces and next-generation hybrid events platform, you have the ultimate flexibility in designing the event that suits your business' needs. For information, speak to Stephen Cox on 1800 629 088 or visit www.cliftons.com/contact