PCOA Webinar Series: Event Contract Law Part 2
21/07/22 @ 11:00 am

-

12:00 pm

AEST
PCOA Webinar Series: Event Contract Law – Part 2
Venue Contracts Generally
Date: Thursday 21 July 2022
Time: 11:00 am to 12:00 pm AEST
Webinar Overview
Part Two
Venue hire is usually the single biggest cost and commitment for conference – for both PCOs and their clients. Venue-hire contracts vary enormously from venue to venue – but there is one thing that most have in common: they are usually the most onerous!
In this second part of our Event Contract Law webinar, Renee Bennett from Encanta, PCO Association councillor (WA), an industry-leading PCO, will quiz Matt Crouch, well-known specialist events lawyer, on the traps that venue contracts almost always contain – what clauses to look out for, why they are such a problem for PCOs and their clients and what you may be able to do to create balance and fairness.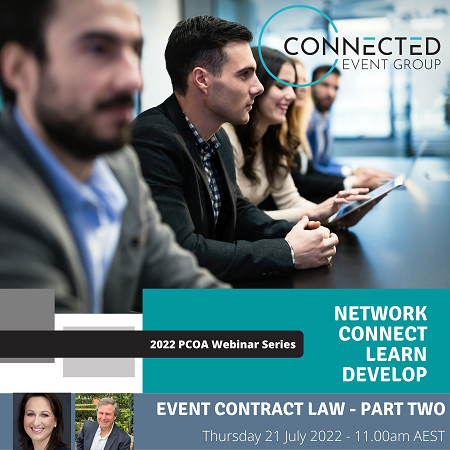 About the Presenters
Matt Crouch
Matt Crouch is well-known as the legal expert in the events sector, having specialised for over 35 years in assisting event-participants of all kinds, particularly PCOs, event managers (including many who operate in-house, within associations) venues and others.
Matt practices as a solicitor, teaches event-law and frequently contributes legal columns in events industry publications. You may have seen him at one of his many presentations at events-industry conferences, webinars and professional development sessions.
Matt's approach is always to speak plainly, to un-pack legal complexity and provide practical solutions
Renee Bennett
Renee Bennett, Managing Director of Encanta Event Management, has been involved in the business events industry for over 20 years.
Based in Perth, Renee started her journey at Congress West as an Event Coordinator, working her way through all the event management career milestones until appointed Director of Events of EECW in 2007. In 2015 she purchased the company along with a business partner and changed the name to Encanta Event Management.
A devoted mother to Grace and Max, she fully understands the continuing challenge of maintaining a busy work and home life, whilst running a national business and managing a varied and large client portfolio. Thankfully, she is ably supported by a wonderful understanding husband.