PCOA Webinar Series: Lessons learnt to prepare you post COVID-19
23/04/20 @ 1:30 pm

-

2:00 pm

AEST
PCOA Webinar Series: Lessons learnt to prepare you post COVID-19
Date:  Thursday 23 April 2020
Time:   1:30 pm to 2:00 pm AEST
Webinar Overview
COVID-19 is a real test for everyone, none more so than operators of conference management companies who now face the very real prospect of an entire year without any more incoming revenue. The challenges are multiple and complex – a business to save, unpleasant decisions to make about staff, clients to advise, refunds and postponements to process and an ever present need to drastically reduce costs. There are lessons to be learnt from many previous disasters and crises and these will be discussed.
Just as important is keeping an eye to the future. We are already seeing that digital meetings are not seen by many as a satisfactory replacement for in-person conferences. There is every likelihood that whenever the current madness is over, there will be an increased demand for face-to-face conferences. There are things you can do now to prepare for the much better times to come.
Effectively the thrust of this webinar will be do whatever you need to do to survive now so that you are in a good position to benefit from a surge in demand later.
This webinar will include:
A review of survival strategies that have worked in a PCO setting during past crises – 2 recessions, GFC, Pilot's strike and Terrorist attacks.
Suggestions for guiding clients through the maze of options and challenges caused by COVID-19.
Options for your business – many of which you are probably doing already!
Getting ready for the "other side". This will end and the chances are you'll be as busy as ever.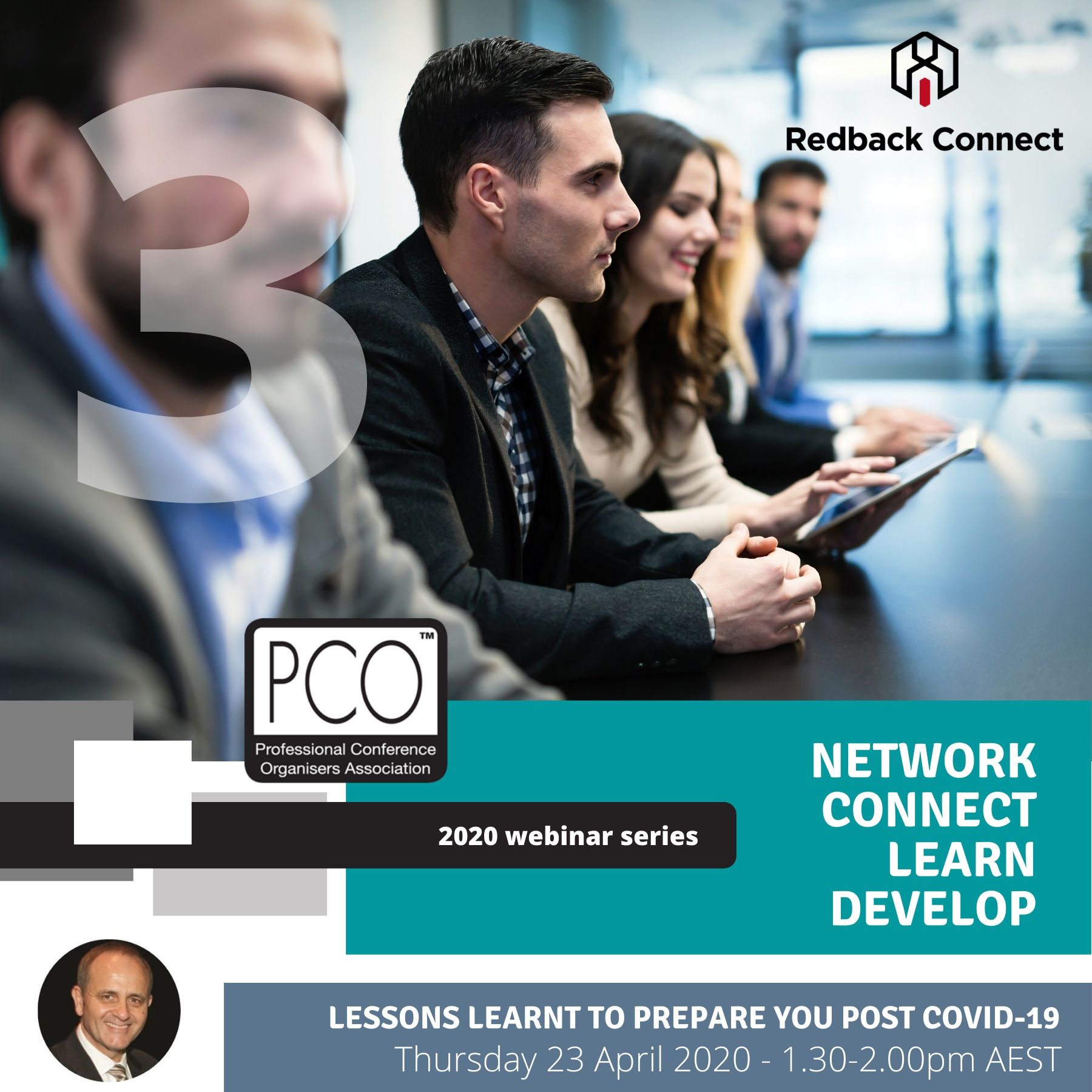 About the Presenter
Ashley Gordon
Ashley co-founded Carillon Conference Management Pty Limited (CCM) in Brisbane in 1985. He has personally managed over 400 major conferences from inception to successful completion and has directed and managed some of the largest and most important conferences ever held in Queensland.
Ashley has advised and consulted to notable events such as CHOGM, the G 20 Global Café, the Planning Conference for G20 2015 and the Commonwealth Games Trade Conference series. Ashley manages CCM's international relationships throughout the Asia-Pacific, India, Europe and the Americas. He has led numerous overseas trade missions and delegations and frequently facilitates international negotiations.