PCOA Webinar Series: In Case You Missed It: Event Contract Law Revisited
27/10/22 @ 1:30 pm

-

3:00 pm

AEST
PCOA Webinar Series:
In Case You Missed It:
Event Contract Law Revisited
Revisiting Force Majeure, postponements, cancellations and conversion to virtual/hybrid
Date: Thursday 27 October 2022
Time: 1:30 pm to 3:00 pm AEDT
Webinar Overview
Event Law with Matt Crouch and Renee Bennett, part one of the two-part webinar series will be replayed for the business events community​.
In this webinar, Renee Bennett from Encanta, PCO Association councillor (WA), an industry-leading PCO, quizzes Matt Crouch, well-known specialist events lawyer, on the concept of force majeure.
Matt then outlines what your events contracts should now be saying about such intervening circumstances.
Matt will delve deeper into this topic at PCOA22 during his legal workshop – Your events contracts – Are they worth the paper they are written on?
Now is the time to make sure you are registered for PCOA22 in Hobart. Don't miss the opportunity to interact with Matt Crouch in-person.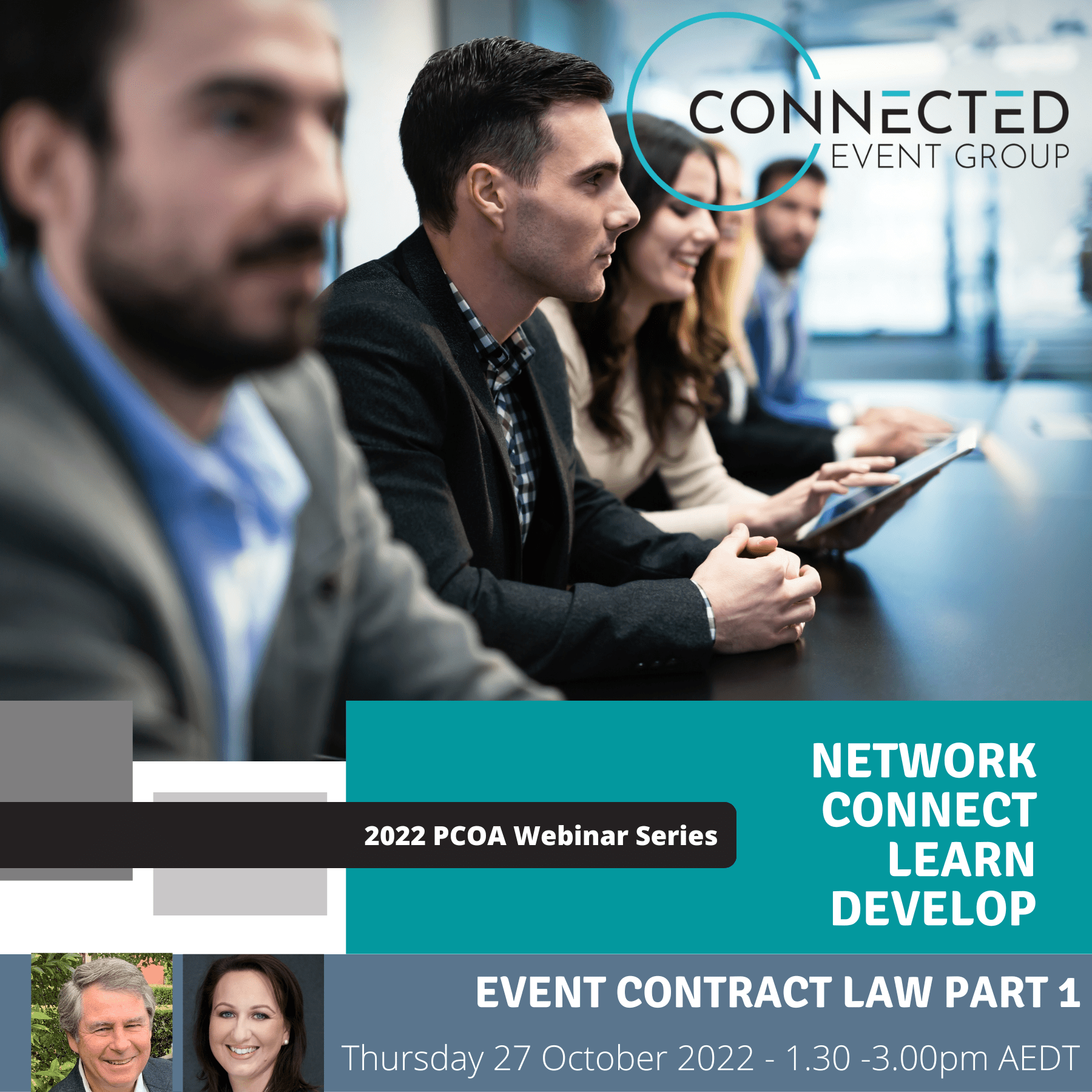 About the Presenters
Matt Crouch
Matt Crouch is well-known as the legal expert in the events sector, having specialised for over 35 years in assisting event-participants of all kinds, particularly PCOs, event managers (including many who operate in-house, within associations) venues and others.
Matt practices as a solicitor, teaches event-law and frequently contributes legal columns in events industry publications. You may have seen him at one of his many presentations at events-industry conferences, webinars and professional development sessions.
Matt's approach is always to speak plainly, to un-pack legal complexity and provide practical solutions
Renee Bennett
Renee Bennett, Managing Director of Encanta Event Management, has been involved in the business events industry for over 20 years.
Based in Perth, Renee started her journey at Congress West as an Event Coordinator, working her way through all the event management career milestones until appointed Director of Events of EECW in 2007. In 2015 she purchased the company along with a business partner and changed the name to Encanta Event Management.
A devoted mother to Grace and Max, she fully understands the continuing challenge of maintaining a busy work and home life, whilst running a national business and managing a varied and large client portfolio. Thankfully, she is ably supported by a wonderful understanding husband.