PCOA Webinar Series: Yoga at Your Desk Techniques to Relax, Rejuvenate & Reinvigorate
25/08/21 @ 1:30 pm

-

2:00 pm

AEST
PCOA Webinar Series: Yoga at Your Desk Techniques to Relax, Rejuvenate & Reinvigorate
Date: Wednesday 25 August 2021
Time:   1:30 pm to 2:00 pm AEST
Webinar Overview
In this webinar you will learn and practice yoga techniques to alleviate physical, mental and emotional stress that comes through working from home and at a desk.
You will leave this feeling revitalised on all levels and inspired to use these simple, but highly effective, techniques to support you to thrive whilst working from home. You will be doing a combination of powerful breathing exercises for mental and emotional regulation as well as physical postures and movements to support better postural alignment.
There will also be an opportunity to ask questions from an expert in wellbeing and feel empowered moving forward.
In this webinar:
Understand how long periods of sitting actually affects you.
Learn how to support better spinal alignment and overall posture.
Simple and effective breathing for nervous system regulation.
Meditation for gaining greater perspective and insight.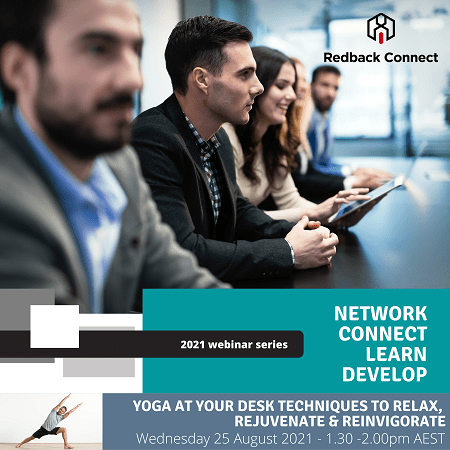 About the Presenter
Marty Coles
NSW Training & Development Manager & Facilitator – Power Living Australia Yoga

Marty Coles has been coaching sport and had involvement in health and fitness for over 15 years. After years of soccer his dodgy knee brought him to yoga, and what started as a rehab/stretch, became an integral part of his life physically, emotionally, mentally and spiritually. Marty's path is a spiritual one and his practice centres around how to find a deeper connection through the ancient wisdom of yoga.
Marty has been blessed with three beautiful children who help to keep him striving to be the best he can. His children are his greatest teachers and constantly remind him to be present! Marty offers a strong physical practice whilst delivering a powerful message, with plenty of fun. He values enthusiasm, compassion and authenticity. His aim is to inspire students to leave their mats after class and continue the practice in their daily lives.